Otter provides different plans tailored to your needs. This article provides steps on how to revert your Business account to a personal Pro or Basic account.
Canceling plan
In order to downgrade your account, make sure your Otter Business plan trial or paid subscription is canceled, and the billing period has expired.
For paid Business users
Please reference the Cancel your Otter Business subscription article for more information. 
For Otter Business plan trial users
Wait until your plan expires first. Find out when your plan expires by going to

Account Settings > Plan.

Under

Plan Details

, see when your trial expires.

 

To verify that your account is no longer on a trial or a paid plan:
Navigate to

Account Settings > Plan.
Under Plan Details,

'Business (Free) Plan' should appear

Revert Plan
If you have multiple team members in your Otter Business account, only the owner or admin(s) are able to proceed with reverting the account.
Once your paid plan or trial expires, a Revert plan option will appear on the Account Settings > Plan page. Click Revert plan.

A pop-up will appear asking you to confirm these changes. Click Revert plan to proceed.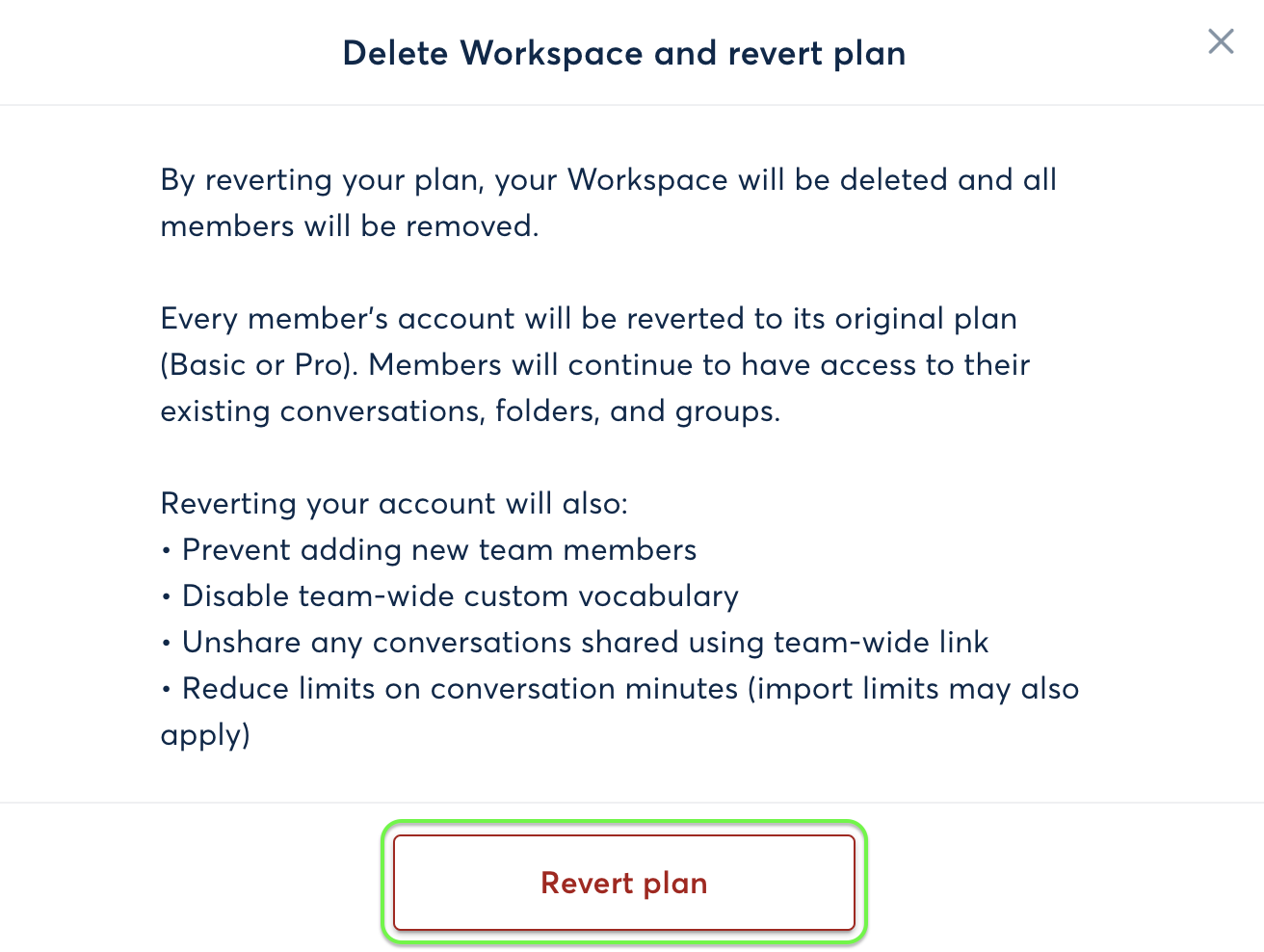 A message confirming that your plan has been downgraded will appear and you'll also be sent an email confirming the changes. The message may vary depending on your previous plan. Users will revert back to a Basic plan or an active Pro plan. Applicable limits will apply.
For users previously on the Otter Basic plan

For users previously on an Otter Pro plan that is still active

For accounts that have multiple team members

Reverting user(s) under a Workspace account
Reverting user(s) under a Workspace account
Admins can remove any user from the Workspace and revert them to an individual Otter account. All conversations and account information will be preserved in the Workspace account when users are reverted to an individual account. See Remove a member from a Workspace for more information. 
Note:
To deactivate or delete a user instead, refer to the
Manage Members
articles. 
If you are not the owner or an admin of the account, contact your admin to revert your account to a personal one. If you don't know who the admin of your Workspace is, navigate to Account Settings > Plan and click Contact.