When using Otter Assistant (now available for both Pro and Business users), you can add a screenshot from your video call with a single click. Capture important meeting slides or other materials for fast, easy, visual references for yourself and your team.
Note: Read more about our new releases
Overview
During your Zoom, Google Meet, or Microsoft Team's meeting, you can now add screenshots of the meeting directly into your transcript. This feature is only available for Otter Assistant.
Note: Review our article on How to use Otter Assistant
During a live recording, you will see a preview of your meeting in the bottom right corner in your transcript. Click Add Screenshot to capture the moment. Otter will automatically place that image into the transcript.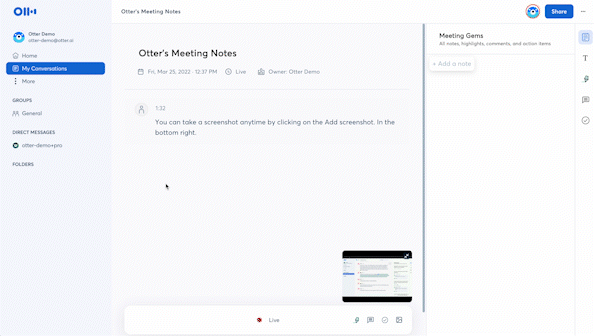 Note: The preview will update every 10 seconds.