Otter Assistant can automatically join your Zoom, Google Meet, or Microsoft Teams meetings, and transcribe the meetings in real time. There are two ways to add Otter Assistant: manually or automatically through your connected calendar.
Automatically add Otter Assistant to your meetings
To have your Otter Assistant automatically join your meetings, you will first need to connect your calendar. You have the option to connect to both Google and Microsoft accounts.
Navigate to

Apps

and scroll down to

Connect calendar & connections.

Click

Add next to the calendar of your choice.


Log in using your Google or Microsoft credentials and allow Otter to connect to your account.


(Optional) You can repeat steps 1-3 to add multiple calendars.


If successful, you will see your calendar listed in Apps as well as see your calendar events populate on the right panel on the Home page.

Otter Assistant Overview
Once you have your calendars connected, Otter will start syncing and populating the Home page with all of your calendar events. Any event that has a valid meeting URL for Zoom, Google Meet, or Microsoft Teams, will show a toggle on the right side for Otter Assistant.
If toggled on, Otter Assistant will automatically join your meeting as a participant:

On your Home page, you can individually toggle off the meetings on the right side that you don't want to be recorded by Otter Assistant:


For meetings that Otter Assistant is scheduled to join, the "Share with calendar event guests" toggle will also be enabled. For more control over your sharing preferences, you can find all of the settings for Otter Assistant in Account Settings > Meetings:
Auto-join

Auto-share

Send links in the meeting chatbox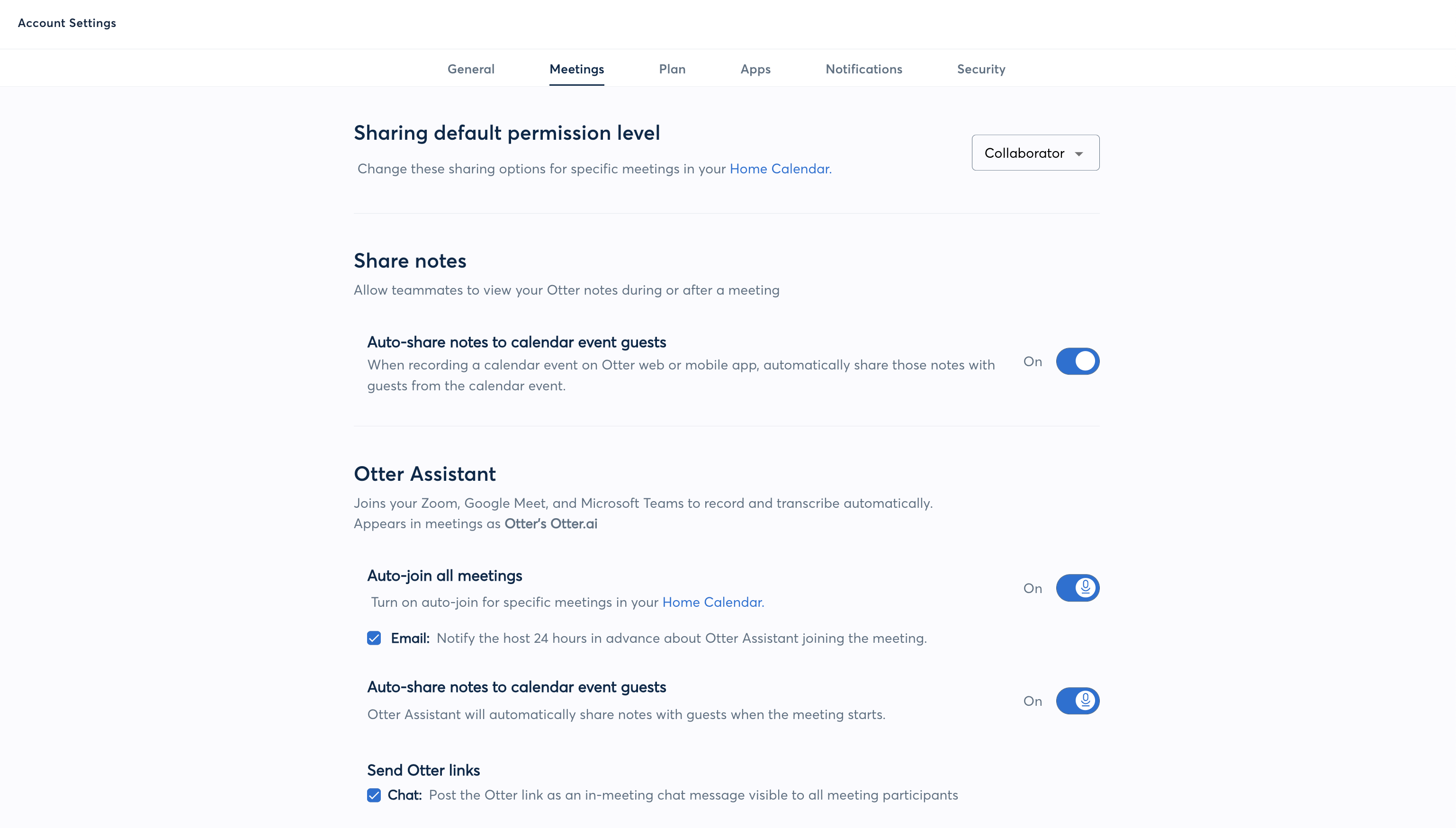 To turn off Otter Assistant, toggle off the setting for 'Auto-join all meetings'. This will prevent Otter Assistant from joining your meetings and auto-sharing the transcript with your meeting participants.

If you change your mind, you can still add Otter Assistant during the meeting. On your Home page calendar, the event will show an Assistant button once the meeting has started. Click Assistant to add Otter Assistant to your meeting. It will take a moment for Otter Assistant to join your meeting.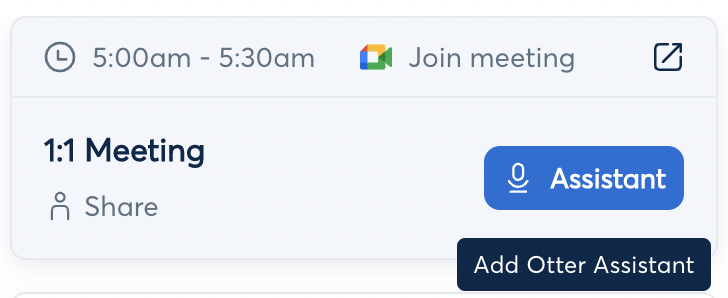 Otter Assistant can join multiple meetings simultaneously on the paid plans, if there are overlapping scheduled meetings, meetings that start back to back, or meetings that run past their scheduled time. Refer to the limits below for the number of available Otter Assistants per plan:
Basic - 1 Otter Assistant

Pro - 2 Otter Assistants

Business - 3 Otter Assistants
Manually add Otter Assistant to your meetings
You can manually add Otter Assistant to your Zoom, Google Meet, or Microsoft Teams meetings. To do so, follow these steps:
Copy the meeting URL.

Click the blue

Record

button in the top right corner.

Click on Record a live meeting via URL on the top right.



Paste your URL and click

Add.


Otter Assistant will now join your meeting as a participant. It will take a few minutes for it to join, but once it has, you will see Otter Assistant in your participant list.
Note: Please ensure your meeting link has the password embedded into the URL. The Otter Assistant will not be able to join your meeting without it.
Change Otter Assistant's display name
At this time, Otter Assistant's name will show as '[Your Name]'s Otter.ai'. You can update the [Your Name] portion in Account Settings > General > Name.
Note: While it is not yet possible to change the full assistant name, it is on our roadmap, so please stay tuned.