Generate a summary in real-time during a live event, meeting, or conversation allowing participants to quickly grasp key points and important information as they unfold. Improve overall comprehension and improve engagement without being overwhelmed by an excessive amount of information.
Otter's proprietary AI will automatically generate a live summary during a recording and display it in the Automated Summary tab of the conversation so you and your colleagues can quickly scan over the main topics
View the Automated Summary for a conversation
Navigate to the conversation during or after the recording that you want to view the summary for.
Click the Summary tab on the Takeaways panel to open the Automated Summary tab.


During a live recording, the summary will automatically generate in real-time.




Note: The automated summary evaluates the conversation every ~3 minutes, but depending on how much content there is there might not be enough to generate a summary, in which case it will skip and attempt to generate at a later time. 

Click on a topic to navigate to that specific timestamp in the conversation.


Tip: 
Want more ways to interact with your conversation during or after a recording?
Check out our Otter AI Chat feature
, where you can ask Otter Chat questions or ask it to generate content for you. 
Edit chapter summary titles 
Otter will automatically generate a title for each chapter summary. You can edit the chapter summary title anytime, which will help Otter improve and produce more accurate titles based on your content in future recordings. Click on any of the titles to edit and click Enter/Return when finished.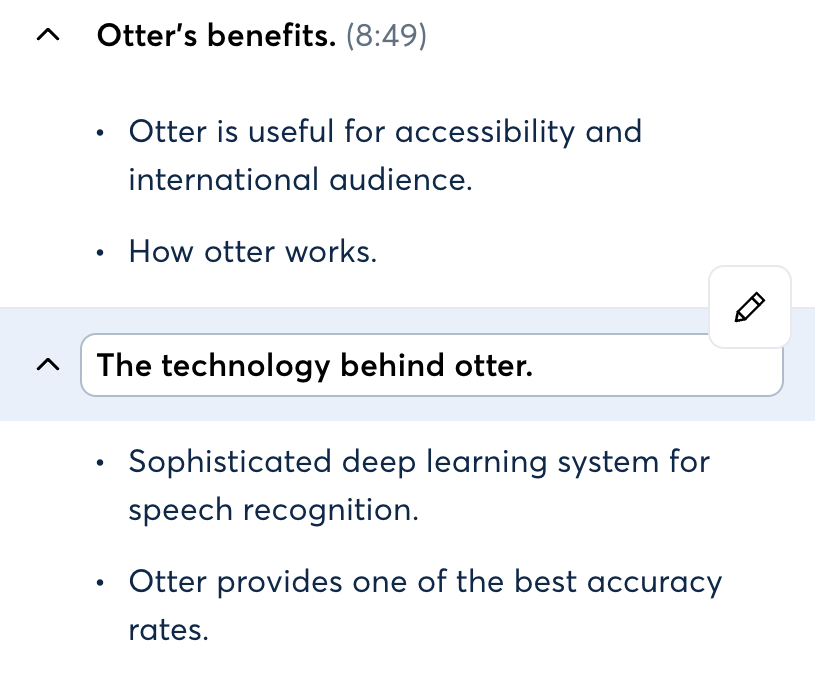 Things to keep in mind
The automated summary may take some time to generate. If you see "Automated Summary will be ready soon", check back in a few minutes.


The automated summary will only be generated for longer conversations with a minimum of 500 words.