Read through this troubleshooting guide if you're encountering any issues with OtterPilot.
Server or service disruptions
Occasionally, there may be server or service disruptions on the meeting platform's end, which can impact OtterPilot's ability to join meetings. In such cases, it is advisable to check if there are any reported outages or disruptions with the meeting platform.
Meeting capacity limitations
Some meeting platforms have limitations on the number of participants or concurrent meetings. If the meeting platform has reached its capacity or if there are restrictions on the number of participants, OtterPilot may fail to join the meeting.
Ensure your meeting URL is supported
Otter currently supports Zoom, Google Meet, and Microsoft Teams meeting URLs. Check if your meeting is associated with one of the supported platforms by navigating to the meeting event on your home page calendar.
Supported meetings will indicate the [platform icon] + [Join meeting], as well as the blue OtterPilot toggle (highlighted green). Regular calendar events without a supported link will not show an option for OtterPilot to record (highlighted orange).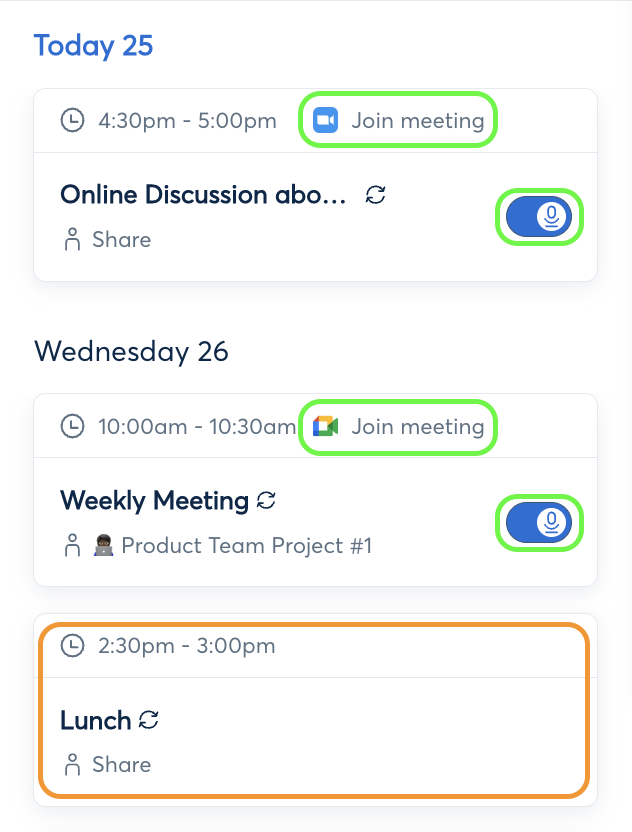 Tip: 
You can still record a calendar event without a supported meeting link, by manually recording through Otter. Click 
Record 
when during the event time and select the event title to create a conversation. Learn more about
recording a conversation
. 
Meeting URL format
Review your meeting URL and ensure there are no typos if you manually created the event. 
Tip
: We recommend using the built-in meeting schedulers on your calendar. Both
Google Calendar
and
Microsoft Outlook
offer native meeting schedulers for their respective apps. Using their scheduler provides the best format for meeting URLs.
Incorrect meeting credentials
If the provided meeting credentials, such as the meeting ID or password, are incorrect or invalid, OtterPilot won't be able to join the meeting. It's important to double-check and ensure that the correct meeting details are entered.
Review your meeting settings
Check your meeting settings and ensure your platform (Zoom, Google Meet, Microsoft Teams) does not require authentication to join a meeting. Meetings that have authentication require the participant to sign into the platform before joining, which OtterPilot is not able to do. 
This setting may vary by platform and may require an admin to make the change. For example, this is the setting on Zoom's side: 

Allow OtterPilot to join your meeting
A meeting may require a host to approve participants to join. If you are not the host, please ensure you have alerted the meeting host to allow OtterPilot to join. 
Ensure the host of the meeting has started the meeting
Depending on the meeting settings, participants may not be able to join the meeting until the host joins. In that situation, OtterPilot will not be able to join the meeting. After about 12 minutes of trying to join, OtterPilot will stop attempting to join the meeting.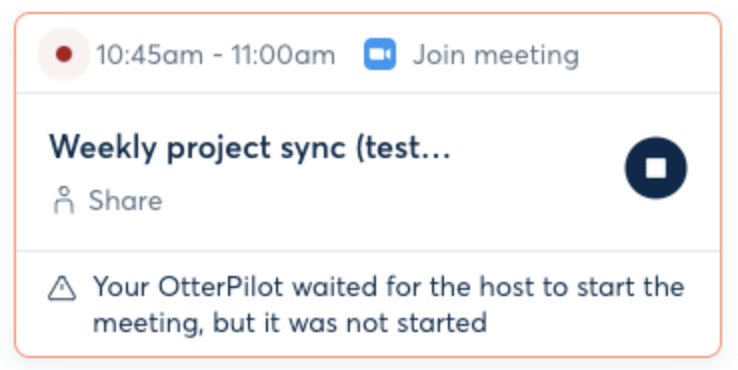 We recommend reaching out to the host and having them enable allowing attendees and participants to join the meeting before the host: 
Ensure your calendar meeting event is syncing over to Otter
OtterPilot will not be able to join your meeting automatically if the event did not sync to Otter. Review your home page calendar to make sure all of your events are properly synced over. 
If you recently added a new event to your calendar and do not see it synced over, click the resync button at the top of the calendar section. If you continue to see that your event is not syncing over, review our calendar troubleshooting guide.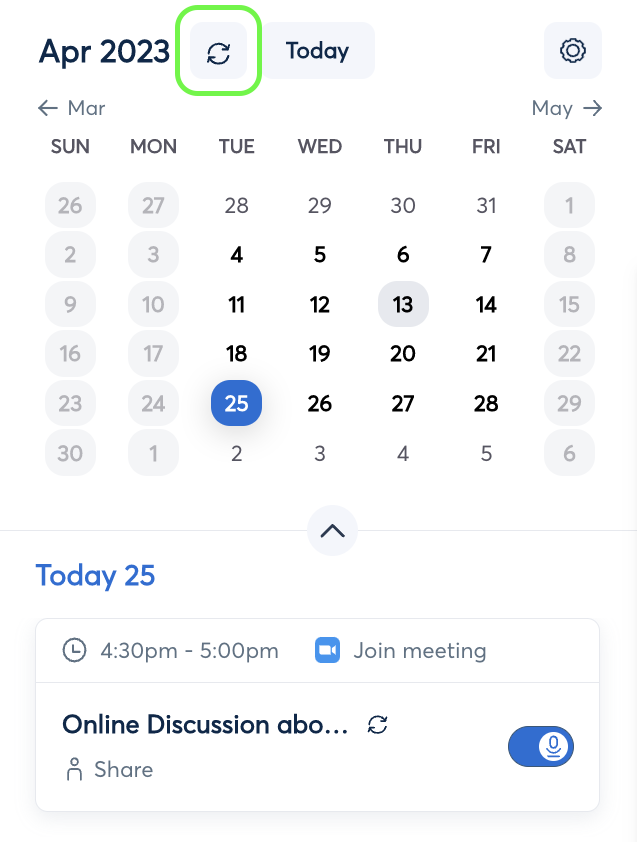 Note: If you need to update your calendar events, please do so at least 30 minutes before the meeting time to ensure the event has time to sync over to Otter. If less than 30 minutes before the meeting, we recommend manually adding Otter at the start time. 
If you continue to experience issues after reviewing our troubleshooting guide, reach out to our Otter Support Team.