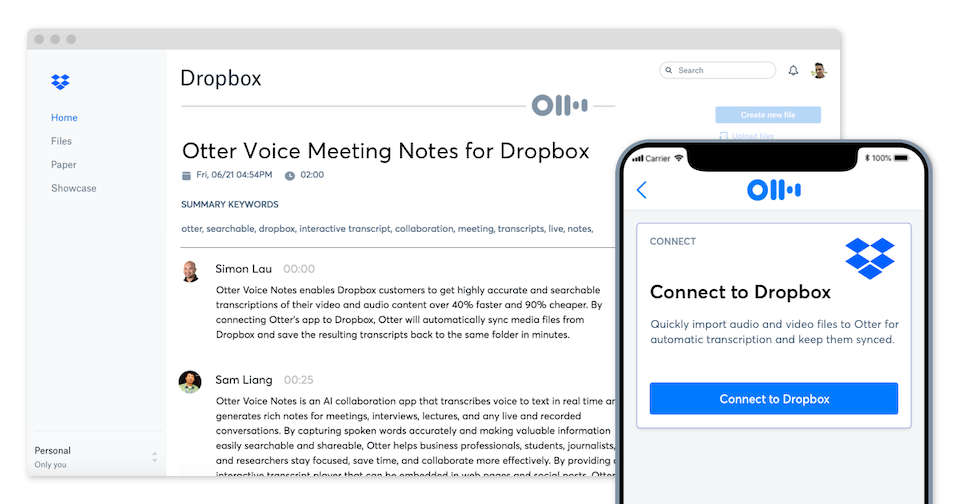 Typing out transcripts takes too much time. And it's precisely the kind of "work about work" Otter.ai wants to help reduce. Creative teams need to be able to upload an interview, video footage, or a recording of a meeting, and have it transcribed automatically. To help them stay focused on storytelling, we're working on ways to automate the tedious tasks and boring chores. We worked with Dropbox to develop an integration that simplifies your workflows and provides meeting recording and transcription, including speaker identification.
When you connect Dropbox to Otter, any time you drop a video or audio file into the Otter app folder in Dropbox, it will be automatically transcribed and you will be alerted as soon as your transcription is ready.
The Dropbox integration is included with all Otter plans.
Setup instructions
Sign in to Otter from a web browser.
Click the menu in the top left and click Apps.
Next to the Dropbox section, click Add and follow the prompts to connect your Dropbox account.
Note: The email address associated with your Dropbox account does not need to match the email address of your Otter account.
Add files to your Dropbox account
Navigate to the Apps > Otter folder.
Drag and drop audio or video files into the Dropbox folder or click Upload. Learn more about uploading files to Dropbox.
Your files will be automatically transcribed by Otter. When Otter has finished transcribing, the transcript will be uploaded to Dropbox, and automatically create a conversation in your Otter account under My Conversations.
Note: When transcribing a file uploaded to Dropbox, an initial transcript will be added to the Otter folder within Dropbox without speaker names. Once Otter has finished processing the file, the file will be updated to include any speakers that Otter was able to identify and override the previous file.
Put intelligent workflows to work (advance)
Step up your game by automating your workflows using Zapier, Automate.io, Microsoft Power Automate, etc. with Dropbox. Create complex workflows spanning across multiple apps, add conditional logic, format data, etc. to boost productivity.