The Otter Chrome Extension enables meeting hosts and participants to effortlessly transcribe in real-time using Google Meet and Zoom. The extension is included with all Otter plans.
How to install and setup the Chrome Extension
On the Chrome Browser, navigate to

Otter Chrome Extension

in the web store.
Click Add to Chrome.

Accept the permissions and click Add extension.
Once installed, pin the Otter Chrome Extension for easy access (optional).

Create a new account or sign in to your existing Otter account.

You are now connected to the Otter Chrome Extension.
How to use the Otter Chrome Extension
Ensure you have a calendar event scheduled in your Google Calendar with a Google Meet or Zoom meeting URL.

At the time of the meeting, click on your meeting URL to launch the meeting. Otter will give you the option of adding your

OtterPilot

to the meeting to transcribe in real time. The Google Meet and Zoom pop-ups will be slightly different. Refer to the images below regarding your meeting workflow.
Google Meet

Zoom

You have the option to select Enable OtterPilot to auto-join all other meetings. This will ensure OtterPilot automatically joins all of your Zoom and Google Meetings that are scheduledon your Google calendar without you having to manually enable it each time. You can manage this setting in your

Account Settings > Meetings.

Click Add OtterPilot to have your meeting automatically transcribed in real-time. OtterPilot will take just a moment to join your meeting.

You will see your OtterPilot join as a participant and find the live conversation available in your

Conversations

, through the in-chat links, or through the calendar event.
Manually record on your device instead
For Google Meet, you have the option to record on your device instead of sending the OtterPilot to your meeting. When the pop-up appears, select Record on my device instead.

Note: Record on my device instead will only show on the pop-up for Google Meet and not Zoom meetings.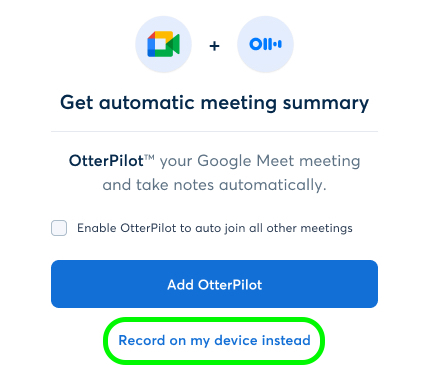 Selecting this option will allow you to manually record your meeting. Click Record when you're ready to begin recording your meeting.

Frequently asked questions
Does the Otter Chrome Extension work with Microsoft Teams or Webex?
The Otter Chrome Extension only supports meeting links associated with Zoom or Google Meet.
Yes. You will need to use Chrome in order to utilize the Otter Chrome Extension.
Does the Otter Chrome Extension support any other languages?
The Otter Chrome Extension currently only supports English, but we hope to add more languages in the future.