Bulk export multiple conversations, conversation audio, or Takeaways with a few clicks.
Web browser export steps
Navigate to My Conversations, the Direct Message, the Channels, or the Folder where the transcripts are located, that you want to export.
Select the checkbox next to the conversations you want to export.

Click the Export icon at the top.

Select the format(s) and additional settings. Click Export.


The bulk export process will begin.

You will receive an email with a link to download the ZIP file containing all of your transcripts once it's ready.

Mobile export steps
Note:
Takeaways cannot be exported on the mobile app. To export or bulk export Takeaways,
sign into the web browser
version of Otter.
Click on the icons next to the conversations to select them.

Click the 3 dots and select Bulk export.
Select the format and continue with additional settings.
Click Continue.
The files will export individually that you can save to your device.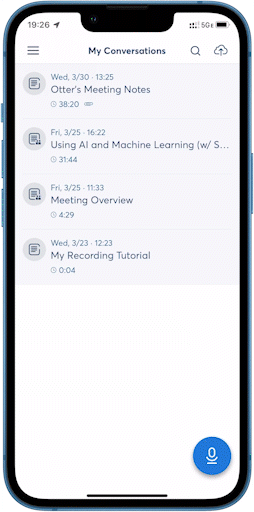 Note: Adblockers can prevent exports from working properly. If you are experiencing any issues, please disable your Adblocker to export your files.
Once you have exported, you can save the file to your local storage or export to any of the available apps in the menu. The menu options will be based on your device. Please refer to your iOS or Android device.