You can export conversations, including any shared with you, both as text or audio in different formats, along with Meeting Gems™. By exporting your conversations, you can use it in another service, such as for closed captions.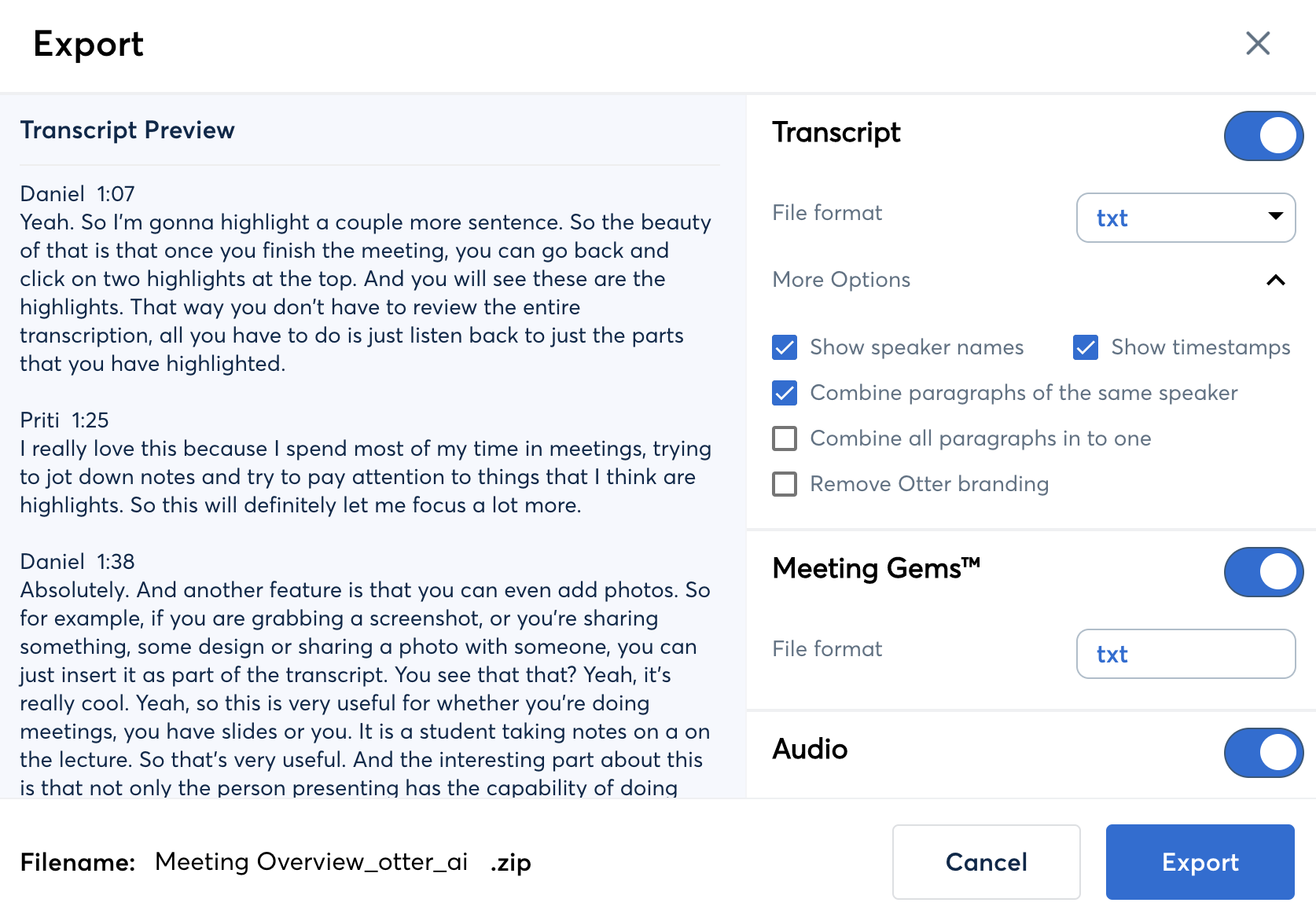 Export to text
Note: Users on the free Basic plan can export to a TXT file only. To export to other file types, upgrade to a paid plan.
Click the menu in the top left and click My Conversations.
Click the conversation you want to export.
Click the 3 dots in the upper and then click Export.
Choose the file format for the text:

CLIPBOARD copies the text to your computer's clipboard.
TXT

is a standard

text

document that contains unformatted

text.
DOCX creates a Microsoft Word document.
PDF creates a portable document format (PDF) document.
SRT

extracts the text

and their timings to a SubRip Subtitle format text file, which can be imported into a video file for subtitles and captions. This format is widely used to export captions to YouTube.



Choose how to name the exported file and any additional export options. A preview of the exported text is shown below the options.

Include speaker names
Include timestamps
Include highlights
Include photos
Merge same-speaker segments
Export as monologue
Remove Otter branding (available for TXT and CLIPBOARD formats


Click Export.

Export Meeting Gems™
You can now export a text (TXT) file with a summary of all Meeting Gems™. It will contain summaries of text notes, highlights, comments, and action items.
Note: Read our article on Meeting Gems™
In the conversation you want to export Meeting Gems™, click the 3 dots in the top right and select Export.

Toggle the Meeting Gems™

Click Export to save the file to your device.
Export to audio
Click the 3 dots in the top right.
Toggle on Audio.

Click Export.
The exported file will be downloaded in an MP3 format.
Export multiple conversations
Bulk exporting is a feature available on our Business plan. Check out our pricing page to see the different features that each plan offers.
Desktop Export Steps
Navigate to My Conversations.
Select the checkbox next to the conversations you want to export.
Click the Export button at the top.
Select the format(s) and additional settings. Click Export.
You will receive an email with a link to download it once it's ready.

Mobile Export Steps
Click on the icons next to the conversations to select them.
Click the 3 dots and select Bulk export.
Select the format and continue with additional settings.
Click Continue.
The files will export individually that you can save to your device.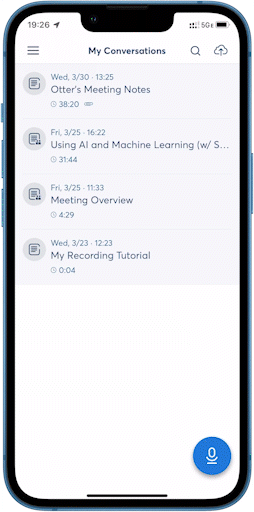 Note: Adblockers can prevent exports from working properly. If you are experiencing any issues, please disable your Adblocker to export your files.