Meeting Gems™ can be generated directly from your meeting by highlighting snippets within the notes. Easily capture action items, decisions, and key moments of your meeting then use the Meeting Gems™ panel to assign action items, add comments, or ask a question, saving you the step of sending follow-up emails.
Note: Read more about our new releases.
Overview
In every conversation, you have the ability to add text notes, highlight parts of the transcript, add comments, and assign action items. All of these are captured in the Meeting Gems™ panel. You can find this panel on the right side of every conversation.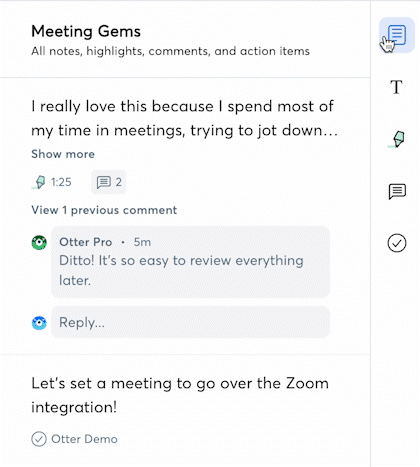 Each section will filter out that action and provide an easy overview.
Text notes - Filter the notes, thoughts, or items that your team has shared
Highlight - Find all of the highlights that you and your team have surfaced in the transcript
Comments - Review all of the comments on text, highlight, or action items
Action items - See all of the users who have been assigned a task
You can organize your Meeting Gems™ by rearranging the Gems in any order. All you need to do is hover your mouse on the left side to pull up the 6 dots. Then click and drag to reorder.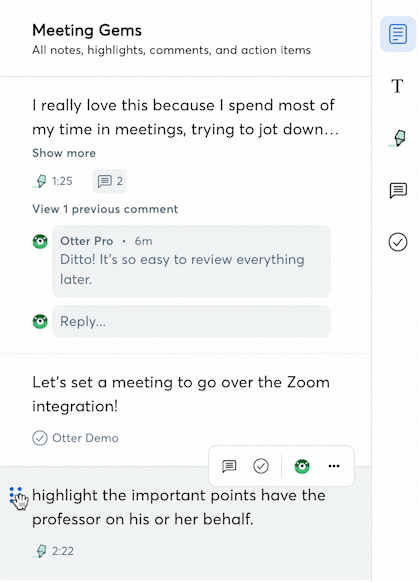 Note: Reordering is only available on the All Gems tab
Text notes
Add notes and text to jot down your thoughts, opinions, or general comments about the transcript. Click Add a note at the bottom left to create a text note at any time during the live or post transcript.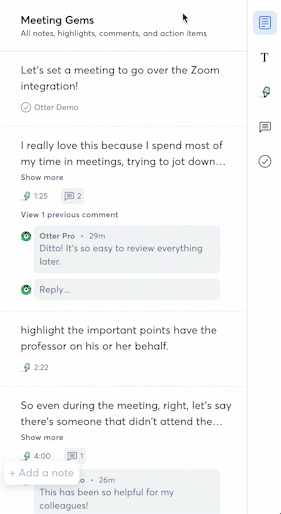 You can also type the note and tag your teammates or a user as well. Just '@' the Otter user you want to tag in your note.
Note: You will only be able to tag your teammates or Otter users that you have shared the transcript with. Speakers in the transcripts, as well as users who do not have an Otter account, will not be able to be tagged in comments.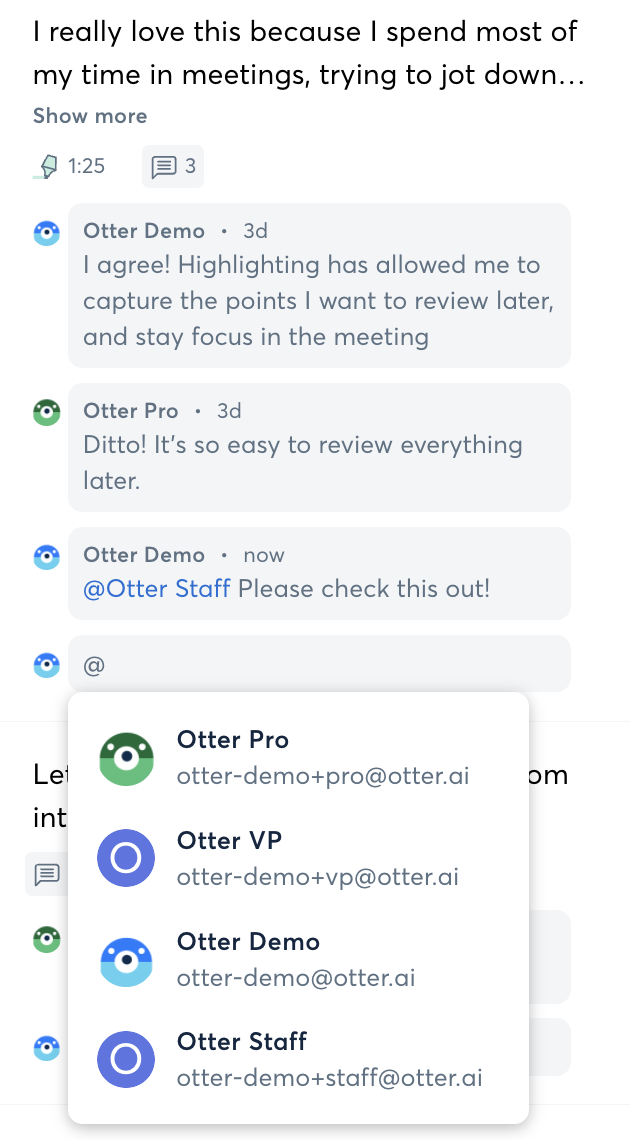 To easily see all of your notes as well as your teammates, click the Text notes panel on the right side: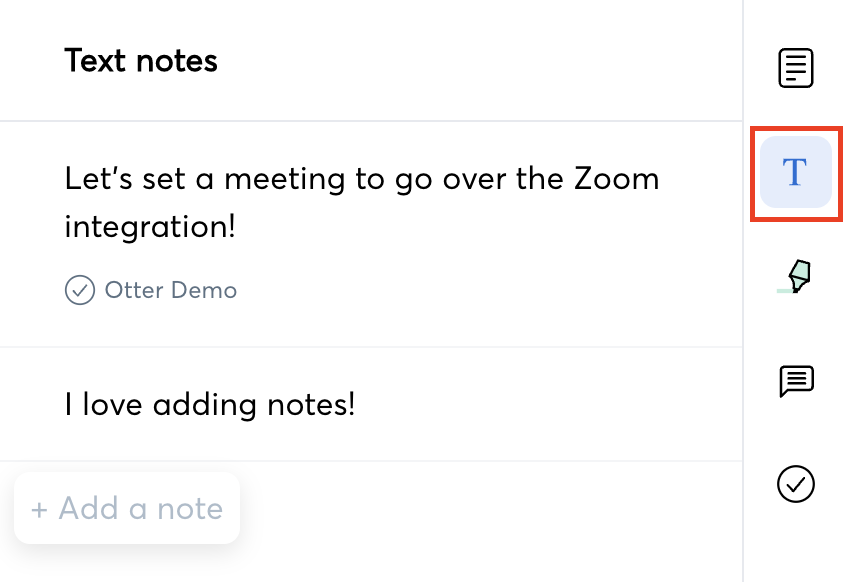 Highlights
At any time during the live or post transcript, you can easily highlight any portion of the text in the transcript, and it will automatically appear on the right side under your Meeting Gems™. Click the Highlight panel to filter all highlights in the transcript: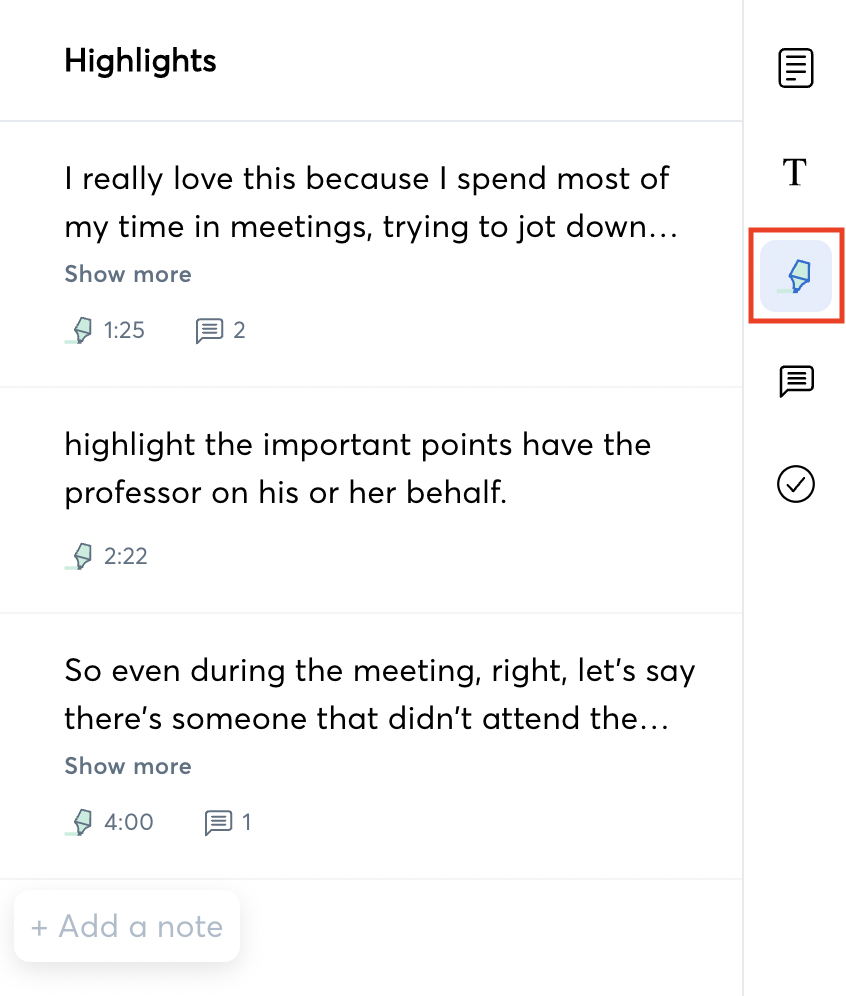 Comments
You can comment under any text note or highlight to provide more information, add your perspective, or shout out one of your teammates during a presentation. The possibilities are endless!
To comment, hover over any text note or highlight, and click the comment icon: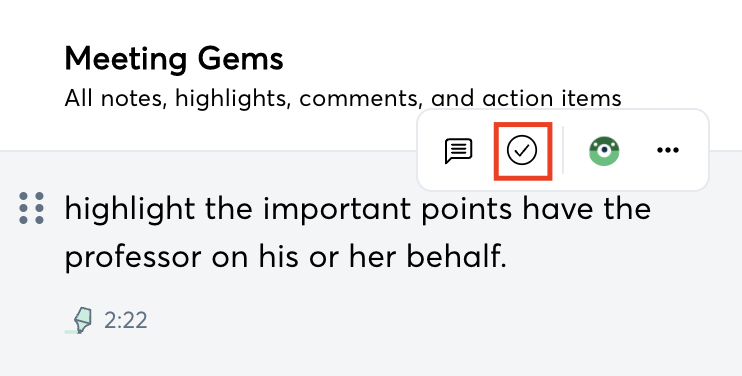 Once you add your comment, it will start a thread under that item. Multiple users can comment under one thread.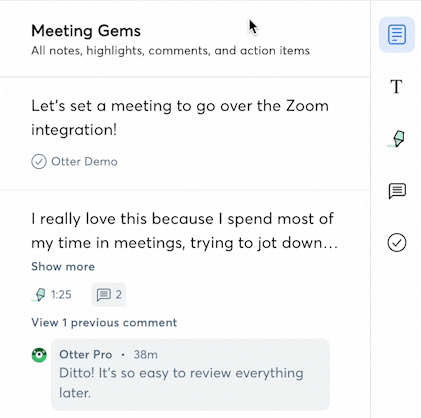 You filter all the items with comments by clicking on the Comments panel: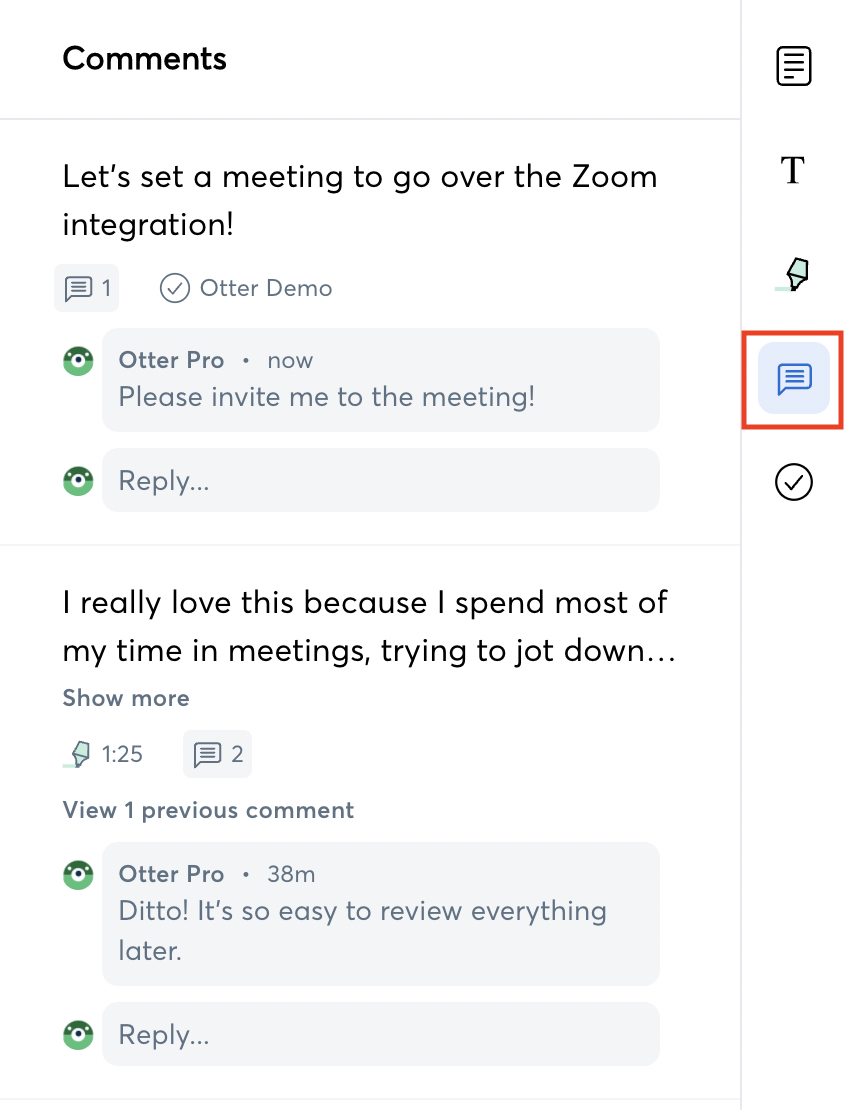 Action Items
Action items are great for those who want to assign a follow-up, task, or item to a team member or user on the transcript. To add an action item, click Add assignee icon when hovering over a text note or highlight: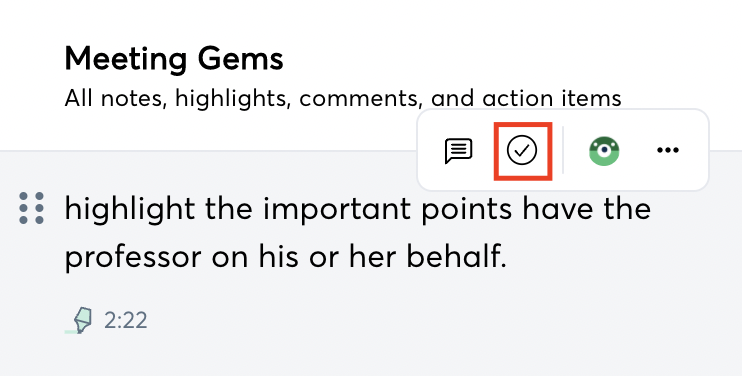 And select the Otter user you want to assignee the item to: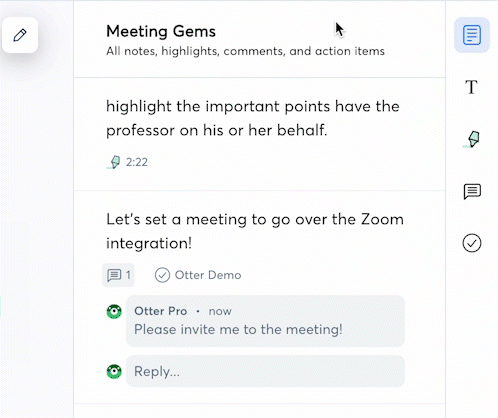 Items that are assigned to you will show on the Home page. You can click View All as a shortcut to the Action items panel in Meeting Gems™.