Table of contents
Looking for more information about creating an Otter workspace? You've come to the right place! This guide will help you to get your team up and running.
Step 1: Create a workspace
First, sign up for an Otter workspace using your work email address. An Otter workspace is a single place for your team and your work. We'll ask you to verify your email by sending a validation link to your email address. If you have questions about pricing, contact sales.
Step 2: Configure workspace and security settings
Before inviting team members to join your workspace, we recommend getting familiar with your account's settings. Check out this video to see a walk-through of your account.
Access your team settings
To view your workspace settings, follow the steps below in your browser.
Sign in to your admin workspace at Otter.ai.

Click your Workspace name below your name.

Click c

lick

Manage Workspace.


The team settings page enables you to configure your workspace and manage team members. Here are some of the things you can do:
Invite new team members to the team.
Manage a team member including changing their role, deactivating their access, send reminders to pending invites, and managing trials.
View usage analytics (only available for Business & Enterprise) over time, and find out just how much the team is using (and loving) Otter.
Enable additional security such as two-factor authentication.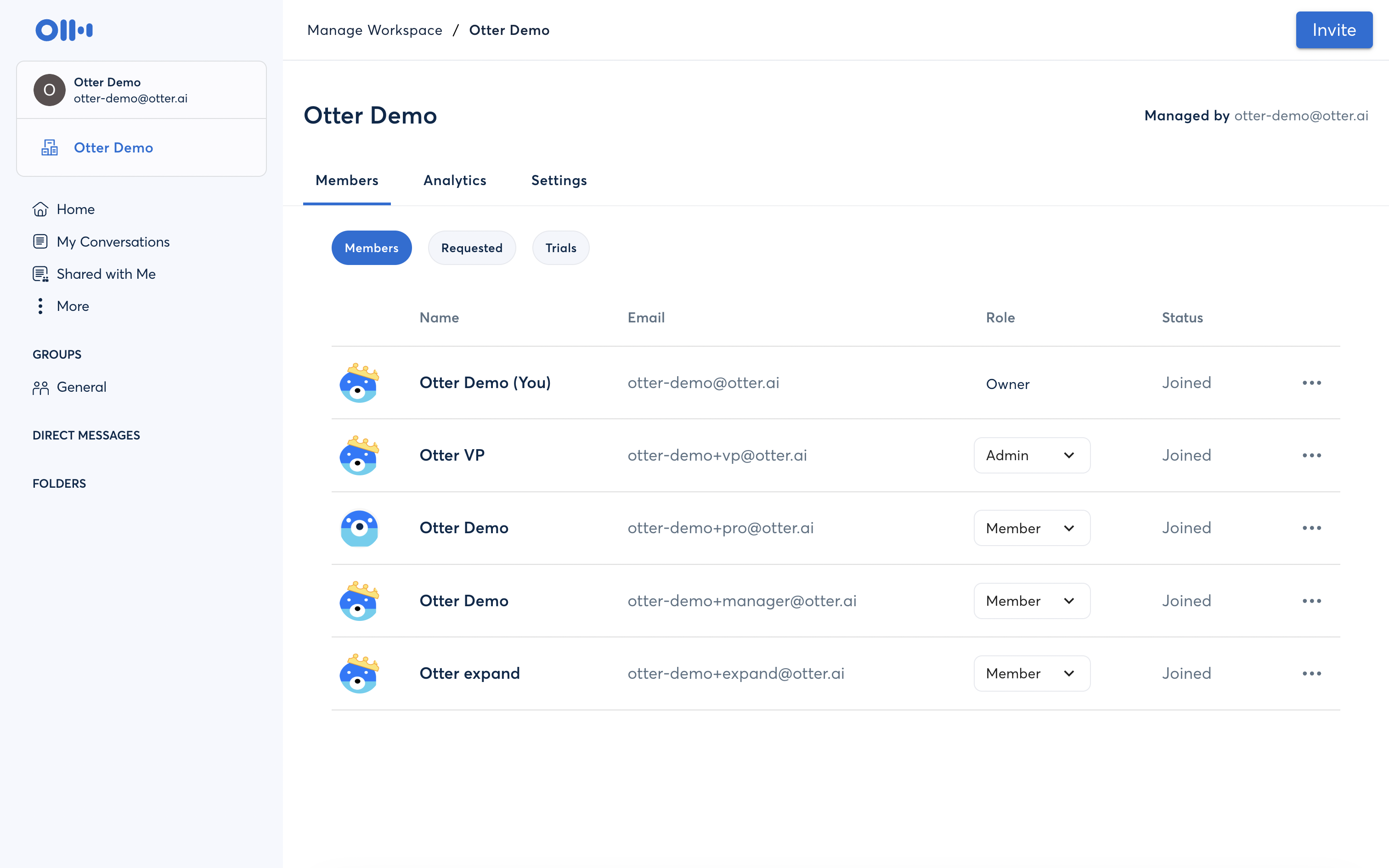 Configure access & security settings
For an added layer of security, you can require your members to use two-factor authentication (2FA) when they sign in to Otter. How two-factor authentication works:
Members will get a verification code sent to their mobile device.
To sign in, they'll enter their verification code along with their password.
Members will need access to enter a verification code sent to their mobile device each time they sign in.

Step 3: Create a Channel
A Channel is a set of members with who you often share a conversation with such as teammates, classmates, etc. When you share a conversation with a Channel, everyone in the Channel will have access to the conversation and be notified via email and push notifications. This saves time by not having to enter the names of each team member individually.
We recommend starting with broad Channels for departments (e.g. "Sales Team") and office locations (e.g. "San Francisco") initially.
Tip: To automatically share a conversation with a Channel, navigate to that Channel, and then click Start recording. Your Channel will receive a notification when the recording starts and once it's finished processing.
Step 4: Invite new team members to your workspace
Now that you've completed the basics of setting up your workspace, it's time to bring your workspace to life by inviting team members to join. They will receive an email invitation to join the team. Once they click the link to join, they will sign in with an existing Otter account, or create a new account.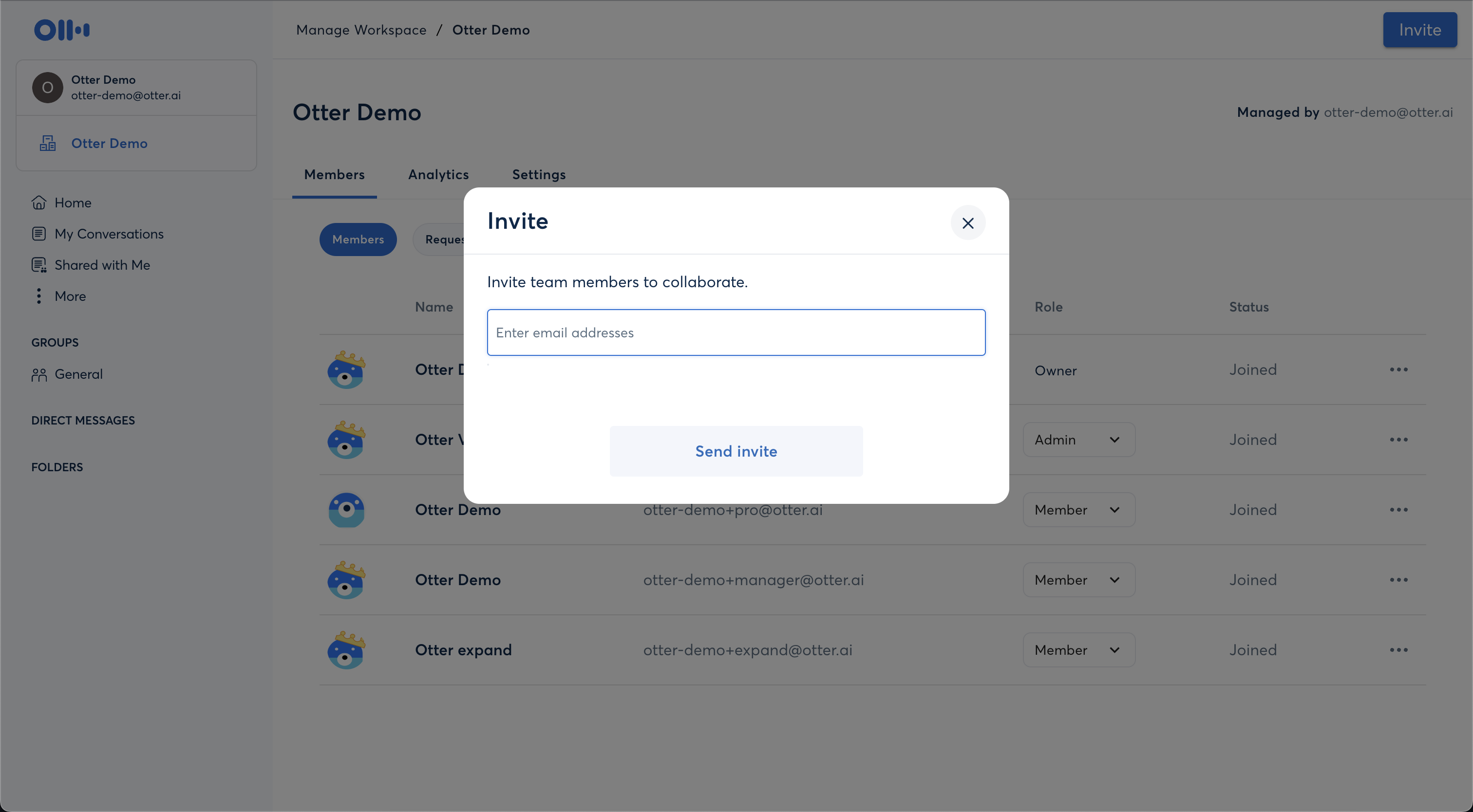 Step 5: Manage team members and roles
Admins can change a role to a team member, deactivate or delete a member's account, or hide them in the team list view. Admins cannot deactivate or delete another admin, and can only be done by the workspace owner. With more admins, you can share day-to-day tasks with them.
Below is an overview of the actions each role can take.
| | | |
| --- | --- | --- |
| Action | Owner | Admins |
| Promote admins | | |
| Demote admins | | |
| Deactivate and reactivate admins | | |
| Deactivate and reactivate members | | |
| Delete members | | |
| Hide and unhide members | | |
| Resend member invitation | | |
| Cancel member invitation | | |
Step 6: Discover the power of apps
Apps connect your Otter workspace with the tools and services you use every day. Click Apps on the left navigation menu to see the available apps.
Team members can connect their calendars and contacts to Otter to centralize and streamline their work. You can also connect apps such as Dropbox and Zoom to improve collaboration and save time.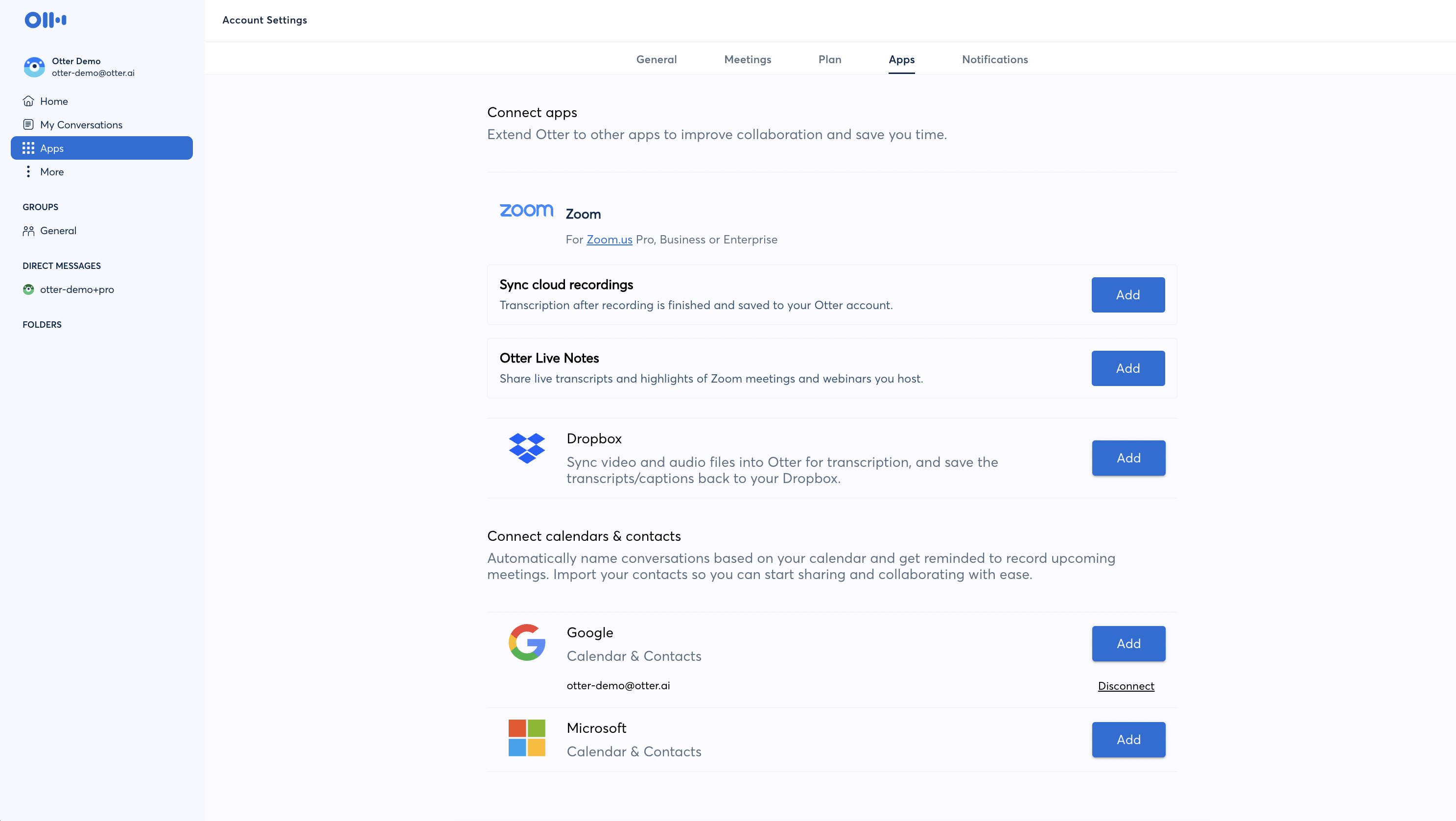 Pre-approve Otter in the Zoom Marketplace
Otter Live Notes integrates with Zoom to make it easy for meeting hosts to instantly start transcribing their meetings, provide a real-time transcription for participants to follow along, and enable participants to take notes collaboratively. See Otter Live Notes in action.
Before getting started with Otter Live Notes, a Zoom account admin will need to pre-approve Otter in the Zoom Marketplace.
Sign in to Zoom.
Find the Otter listing in the Zoom Marketplace.
Click the switch to pre-approve Otter.
Once Otter has been pre-approved, provide your team members with instructions to connect their Zoom account to Otter and start using Otter Live Notes.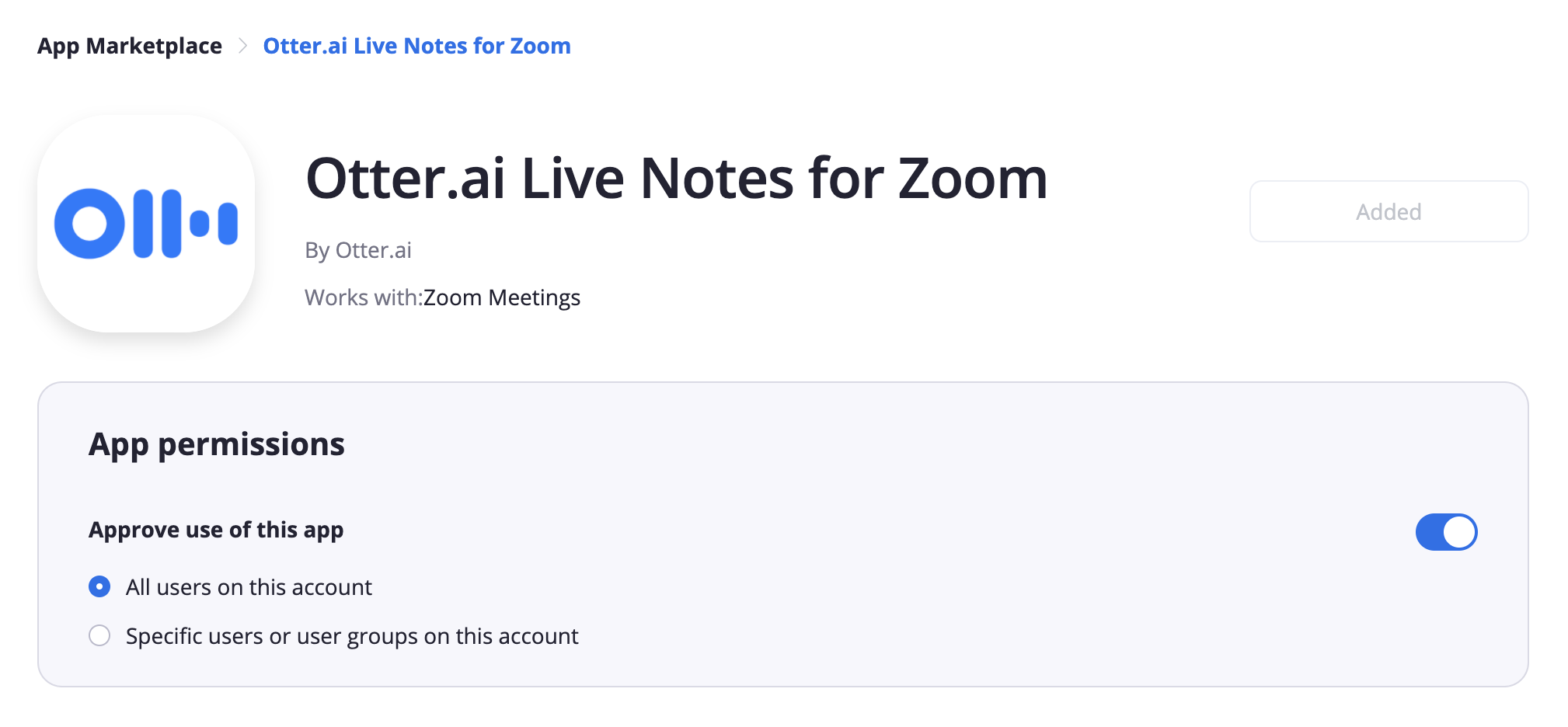 Need additional help?
You're bound to have questions and we're here to help! Explore our Help Center for commonly asked questions, in-depth guides, and troubleshooting tips. Or contact support with your questions.