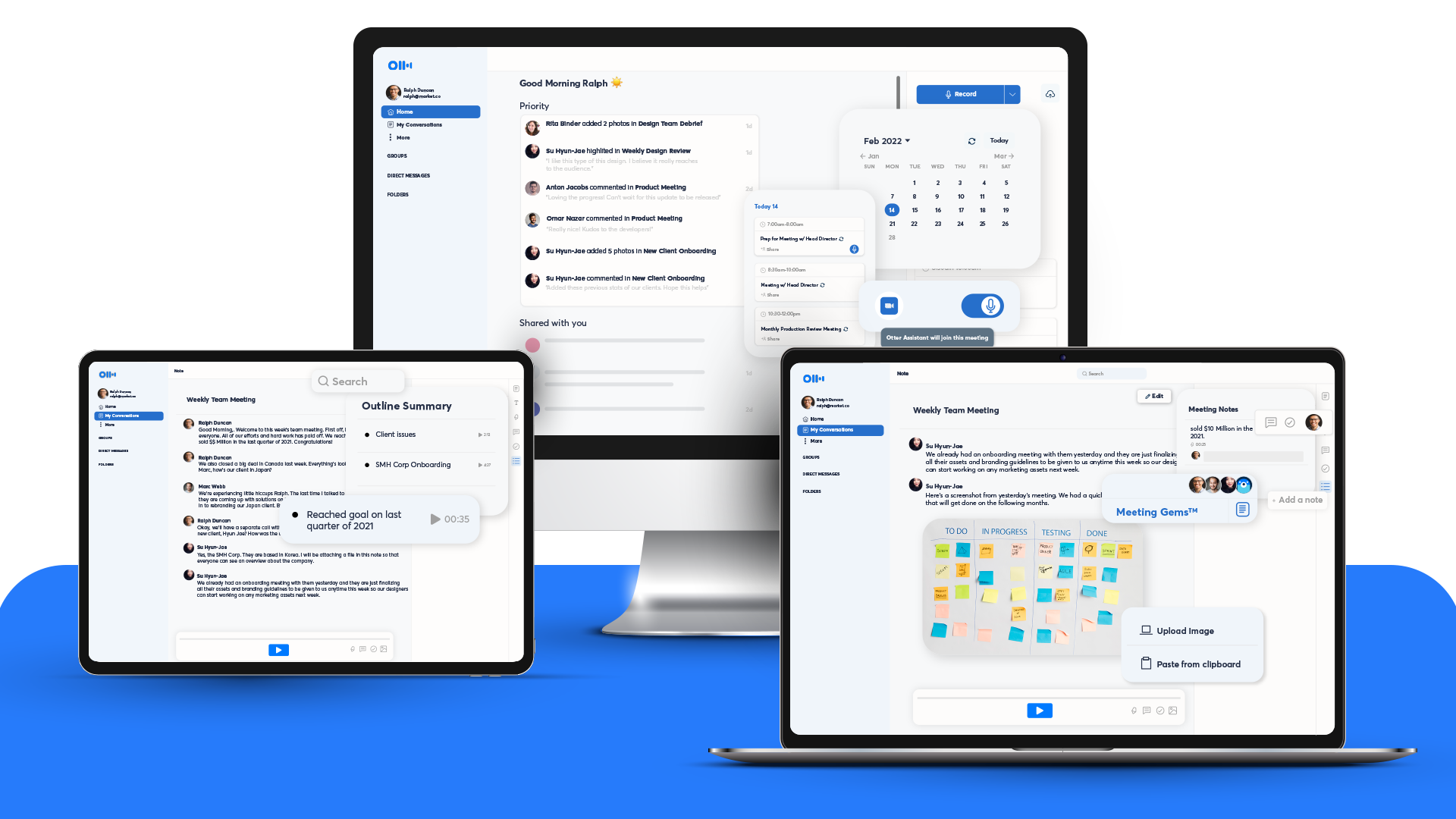 Typing out transcripts or taking notes during a meeting takes too much time and effort. And it's precisely the kind of "work about work" Otter.ai wants to help reduce. Otter turns your voice conversations into smart notes that you can easily search and share. You can use it to take notes at your meetings and interviews, capture your thoughts and ideas while you're driving in the car, and transcribe your existing recordings and podcasts. You can even snap photos (e.g. of a whiteboard, a speaker, or presentation slide at an event) during a recording and they will be inserted inline with your transcripts. The possibilities are endless!
Your conversations
Record and transcribe conversations using Otter on your mobile phone or web browser. Then share your conversations with teammates or classmates.
Learn more about recording and transcribing conversations.
📤 Share conversations
You can easily share conversations in Otter with anyone. When you share from Otter, you can control whether people can edit, comment on, or only view the conversation.
✏️ Review and edit conversations
Review and playback your conversations to catch up on anything you may have missed and collect action items. Also, edit conversations to refine the text and make it easier for you to organize and listen to the conversations.
💾 Import and export conversations
You can import (upload) audio (mp3, aac, wav, m4a, wma) and video (mp4, avi, mov, wmv, mpg) files with Otter for transcription. You can also export the text and audio of a conversation in a variety of formats to suit your different needs.
📂 Organize your conversations
To organize your conversations in Otter, create folders to make conversations easier to find and share with others. Create folders for teams, projects, office locations, or anything else that's relevant to your organization.
Discover the power of apps
Simplify and automate your workflows by connecting your favorite apps 🤖 such as (just to name a few):
Otter's pricing plans
The free version of Otter gives you access to Otter's basic features. For more advanced features, choose from one of our three pricing plans:
Pro
For professionals that require more minutes and advanced features.
Business
For larger businesses or those seeking advanced administration tools.
Enterprise
For very large businesses or those in highly regulated industries.
Learn more about Otter's pricing plans.
Want to learn more?
Find detailed how-to articles in our Help Center to find feature walkthroughs, tips, and videos that will help you get to work in Otter. Make sure to check out our Otter Quick Start Guide to help you learn the basics of how Otter works.